:rotfl:
It seems many modern churches are very Calvinist (with NO art). And you're right, it's a short thread.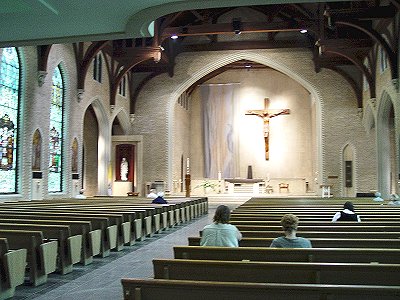 Not necessarily. My parish was one of the first cathedral parishes to be renovated in the early 60s. The huge crucifix is but one of several creations created by the Croatian sculptor Ivan Mestrovic. We have a bronze Pieta on our cathedral grounds as well. The picture really doesn't give justice to the impact that the crucifix has. It dominates the cathedral.
(It looked like this then before the Church was renovated 2-3 years ago)
http://k53.pbase.com/u26/uteh/medium/43949770.antipolochurch2.jpg
(Here it is now)
…I don't know if these ones will count (the Church was already rebuilt in 1954 like this [round church style], after the 17th-Century Church was bombed in WWII)
http://www.antipolocity.com/church1.jpg
http://k41.pbase.com/u26/uteh/medium/43857186.antipolochurch.jpg
(On a side note, the Church above is the Church we go to in the Philippines, Antipolo Cathedral)
Well I for one absolutely love the Bowed or whatever-it's-called Cross as used by all our Holy Fathers since Paul VI - a very powerful image of the suffering Christ:
kesslerstudios.com/media/sg125a.jpg
Note the insipidity, the vapidness.
Some art used in the Novus Ordo is decent, but this kind of thing is quintessentially the expression of that spirit.
What's that supposed to be? a whale?
http://chiyoda-tokyo.sakura.ne.jp/pic-htm/pic/ignati.JPG
Here's St. Ignatius Church in Yotsuya (The church we go to now)
I guess the Philippines is upside-down when it comes to Post-VII Liturgical Art…
I see you're a fan of TIA. To be fair that work of art was not inspired by the NO, the church was given as a venue for the traveling exhibit (a mistake in my estimation).
As for art inspired my the NO, give me a couple of weeks. I'm working with a good and holy priest on a photography project. I'm hoping to get some good double exposures of the elevation of the host and the cup (hopefully flash free, thin screen of incense to help blend the images, you get the idea), as well as some other points in the Mass. I'll be sure to send you some copies now that I know you have such an interest in this type of art.
Yours in Christ,
Thursday
It's a quintessential expression of your desire to trash the NO and nothing else.
Now the interior of Patrick's church is lovely, although it is woefully lacking in specifically churchy or Catholic features, but I'd be happy worshipping in there at least.
Which I can't say for half the rococo churches I saw in Europe (complete with masses of tacky gilded cherubs and so overdone and overornate as to make me physically ill)
:amen:
Might I add this to what you said to ctos?
[quote=1 Corinthians 13:1-3]If I speak in human and angelic tongues but do not have love, I am a resounding gong or a clashing cymbal.
And if I have the gift of prophecy and comprehend all mysteries and all knowledge; if I have all faith so as to move mountains but do not have love, I am nothing.
If I give away everything I own, and if I hand my body over so that I may boast but do not have love, I gain nothing.
[/quote]
Yours in Christ,
Thursday
Your loss, I guess. I think that's very nice. It's not overly complex, lets in light, doesn't distract, and each time I look at it I see something different.
God moving upon the waters at the creation.
God breathing life into Adam
Eve being created from Adam
Fountain of holiness.
Oceans of mercy.
Winds of the Holy Spirit
:amen: some people obviously have problems with abstract art that calls on you to exercise your deeper imaginative faculties.
I don't particularly care for the above stained glass, but I can tell you, I've seen my share of absolutely absurd looking statues in "traditional" settings.
You should see how cheesy the SSPX chapel here in Vegas looks.
I agree. In fact, the first thing that I see is a basket with loaves and fish in it.
What is that verse ? "All things are clean to the clean: but to them that are defiled, and to unbelievers, nothing is clean: but both their mind and their conscience are defiled." (Titus 1:15)
---
That was my first impression.
That odd stained glass window is okay, but I wouldn't want all of the art in a church to be so ambiguous. It's nice to have to use your imagination to see things in a blob of glass, but I think all Catholic churches should also have art that sends a definite and clear message to the viewers as well - representational art should be the dominant type.
On the bright side, that could represent Jonah's Big Fish.
But hey, at least that's Biblical…
*' But he, answering, said to them, 'A wicked and adulterous generation seeks after a sign, and a sign shall not be given to it save the sign of Jonas the prophet. For even as Jonas was in the belly of the great fish three days and three nights, thus shall the Son of man be in the heart of the earth three days and three nights.'' *