Union with God means the human person makes an active, continual, and creative obedience to God's will. St. Francis de Sales, a bishop, doctor of the Church, and expert in spiritual direction, calls this union, devotion. It is cultivated by prayer, the sacraments, and spiritual direction and expressed by service to neighbors.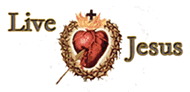 Devotion, then, is the "prompt, active and faithful observance of God's commands," doing "quickly and lovingly as many good works as possible, both those commanded and those merely counseled or inspired."
Learn more about Salesian Spirituality. The Living Jesus Chat Room is a conversation between you and a Visitandine sister, as well as others to help deepen spiritual lives. Whether you are a lay person interested in plunging more fully into a way of daily devotion, or even considering a possible vocation to the monastic Visitandine tradition, we invite you to talk with us and others via this chat room.
The chat will be held this Sunday from 7:30 – 8:30 pm Eastern Time US, and every Sunday, and will be moderated by a Visitandine sister. Go to the sisters' Living Jesus Chat Room.