Why make something more complicated than it is?
Lent is not a time of lists of penances and sacrifices. Rather, the message of Lent is a simple one, according to St. Jane de Chantal, foundress of the Visitation Order. Following Christ's example, there are two commandments in Lent: to watch and to pray.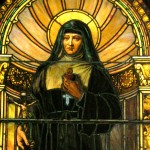 St. Jane goes on to further illustrate useful Lenten practices and how they will both protect us from temptation and lead to holiness. It is only when we have watched well our actions, thoughts, and our soul that we may pray that God may increase our faith and show us His help.
Read her message on 'watching' and 'prayer', which comes from the example of Christ himself.
visitationspirit.org/2012/02/a-lenten-journey-with-the-visitation-orders-foundress/