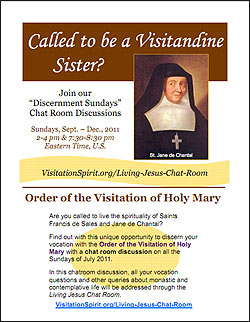 Did you know? The Visitation Order holds hidden treasures and resources for serious seekers of a deeply interior spiritual life.
A unique opportunity to** discern your vocation **with the Order of the Visitation of Holy Mary will be offered during the Sundays in July 2011. During these chat sessions, your vocation questions and other queries about monastic and contemplative life will be addressed through the Living Jesus Chat Room, from 2-4 pm and 7:30-8:30 pm Eastern Time, United States.
The event is called the Discernment Sunday program. It will be held in the Chat Room of the Second Federation of the Visitation. Sign up as a member of the Chat Room so that you can participate. You will receive a free copy of the 80-page, illustrated book: The Visitation, a monastic way of life in the Church, if you include postal information.
Come and join us on any Sunday in July during those times, and a Visitandine Sister will be happy to chat with you about what it means to have a Visitation Vocation!