theverge.com/2016/12/27/14088982/fake-news-safety-check-bangkok-thailand
[quote=TheVerge]Facebook got fooled by its own algorithm. Today, the social network falsely activated its Safety Check feature after a flood of fake news suggested that there was an explosion in Bangkok, Thailand.
Users in the country saw an alert to mark themselves safe, but saw little details about when or where in Bangkok the "explosion" occurred. Safety Check came on at around 9PM local time and was deactivated about an hour later. News that "reported" the explosion linked back to a story on Bangkok Informer that was published in 2015 about the Erawan Shrine bombing.
…]
Fake news has been a thorn in Facebook's side for months now. CEO Mark Zuckerberg recently rolled out an updated system to fight the propagation of untrue and misleading news articles on the site, working with third-party fact-checkers like Snopes, ABC News and Politifact to flag suspicious stories.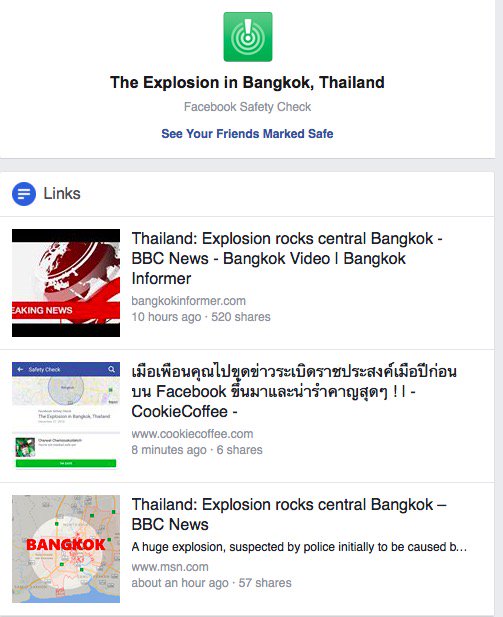 [/quote]
Note: There was previous discussion here on CAF about Facebook's plan to address fake news.