Should every young novice be treated in the same way when it comes to formation? Does one size fit all? St. Jane de Chantal didn't think so.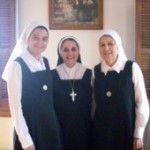 DOES ONE SIZE FIT ALL?
Each woman has to be formed according to her particular qualities and shortcomings, says the saint and co-founder of the Sisters of the Visitation of Holy Mary.
Go to the website of the Visitation Sisters and read the article, "Formation: Not a Mass-Production Factory!"