desmoinesregister.com/story/news/politics/elections/2014/08/09/family-leadership-summit-rick-santorum/13812781/
**Family Leadership Summit: Rick Santorum calls for broadening GOP appeal **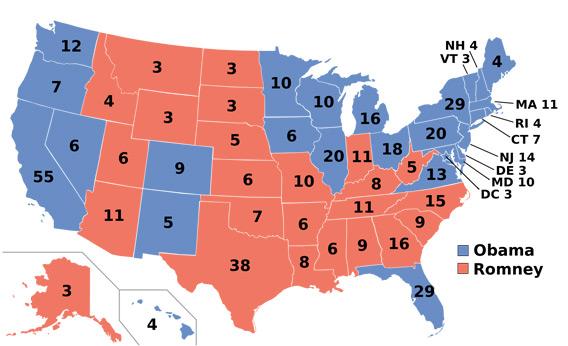 Final Electoral College Count: Obama 332 Romney 206
Ames, Ia. – Rick Santorum challenged the Republican Party to "realign" itself to attract working class voters in a speech to Iowa social conservatives here on Saturday.
Santorum, a former U.S. senator from Pennsylvania and the 2012 Iowa caucuses winner, said the party erred in the 2012 presidential race by focusing too much on entrepreneurs and business owners rather than workers. If the party does so again in 2016, he said, the results will be disastrous.
"If you look at the map for president, if we don't see a realignment of the Republican Party, if we don't see this party reaching out and bringing in new people, then the demographics don't look very good for us," Santorum said.
The answer, he said, is to create new manufacturing jobs in the United States by reducing taxes and regulatory requirements and to build stronger families by encouraging marriage. Republicans can win over working-class voters by proving a commitment to jobs and support for families.
It's nice to see and hear a leader speak (like here - per video) and judge for oneself what has been said and why - rather than run through the filter of the print medium.
Santorum - who is sometimes branded ultraconservative and staunch (probably for his positions on life and the sanctity of marriage IMO) - calling for changes in whom should be appealed to in "broadening the GOP", will probably still not be called a moderate.
He is calling for a "bigger GOP tent" but yet not in the direction of abandoning a pro-life platform or echoing the Democrats' lately found advocacy for "same sex marriage". It's the "pro-business" side of the tent he proposes expanding … in the direction of working people, and not just the entrepenuers and business owners.
His recent book "Blue Collar Conservatives" outlines his ideas on that score - and calls for a new appeal to the people once called "Reagan Democrats …" people ranging from independents to Democrats who occasionally cross over to vote for Republicans when the latter represent their convictions better.
nationalreview.com/article/378236/santorum-conundrum-quin-hillyer
In 2012 Santorum challenged Mitt Romney as being too close to Obama in the area of expansive government management of healthcare - saying " … we (Republicans) can't afford to lose that issue (in 2012)." Romney instituted a supposedly similar plan while he was Governor of Massachusetts (called Romneycare by some) - yet he didn't win the state
versus Obama.
Santorum has won elections where paper Democrats in his state crossed over to vote for him and electing him to the Congress and the Senate when the Democratic alternative held opposite views on the social issues … notably abortion. Present Pennsylvania Senator Robert Casey Jr. who defeated Santorum in 2006 was a rarity … a prominent pro-life Democrat; which may have been a major factor in some of the so-called blue collar values voters "staying home" and voting Democrat with Casey.
Rand Paul rather calls for the GOP to be broadened in a different way.
Chris Christie yet another.
And lineup of "Conservative Possibles" being mentioned as GOP Candidates for President in 2016 each seem to have their own priorities as to how moving the GOP into the White House might best be accomplished as well.
As this event was the "Family Leadership Conference," Santorum attacked some of the ways the Federal Government "punishes families," including "marriage penalties" that are assessed when low-income people receiving government assistance marry or attempt to marry one another. < This last critique affects a disabled member of my family and his disabled partner … who would otherwise would have married in a more public and religious way than just exchanging semi-private vows. They barely scrimp by on what they receive. Being a married couple - or trying to supplement their incomes by working - could jeopardize what little they have.
I do like the idea of including everyone … rather than trying to pander to one group at the expense of another. Setting priorities is one thing … choosing sides in a class war that is defined by the political party itself (unto sometimes being a creature of its own making) sets off alarm bells in my head.
With malice toward none, with charity for all, with firmness in the right as God gives us to see the right, let us strive on to finish the work we are in, to bind up the nation's wounds, to care for him who shall have borne the battle and for his widow and his orphan, to do all which may achieve and cherish a just and lasting peace among ourselves and with all nations. – ABRAHAM LINCOLN, FROM HIS SECOND INAUGURAL ADDRESS bartleby.com/124/pres32.html