A new New York company plans to complete financing this year for a plant to produce electric cars and begin rolling out the three-door, plug-in hatchbacks in late 2010, the company chief executive said Friday.
The company will market at least two versions of the NXR that will come with a variety of options, including navigational and audio systems and climate control.
One model will operate on a lithium-ion battery and will be able to reach speeds of up to 65 mph with a range of 100 miles on a single household charge. It will cost between $20,000 and $25,000. A second city model would have a top speed of 50 mph, with a 50-mile range, on one charge of its cheaper lead-acid batteries. It would sell for about $17,000.
foxnews.com/story/0,2933,569197,00.html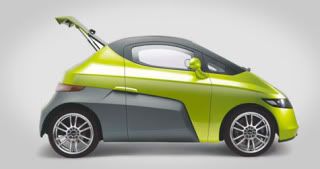 The car is somewhat unusual in that it features an emergency charge, which will give the car an extra few miles just in case the driver runs out of juice.