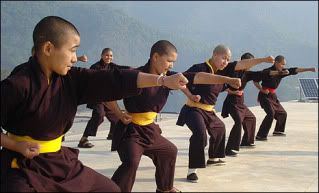 Historically, Buddhist nuns in Nepal have not been treated with respect, often winding up as servants either to families or working the kitchens of male monasteries. But the current leader of one sect of Buddhism is working to raise the status of women, and this is one effort. He purchased a nunnery for them, and its on the roof that they practice their martial arts.
Buddhist nun Jetsunma Tenzin Palmo says that she'll be introducing kung fu into her own nunnery which is based in the Indian state of Himachal Pradesh.
"It's excellent exercise, secondly it's very good for discipline and concentration, thirdly it arouses a sense of self-confidence which is very important for nuns, and fourthly when any young men in the area know nuns are kung fu experts, they keep away," she says.
Jetsunma says since nunneries have begun to offer better education and physical programmes like kung fu, the number of young women who want to become nuns has grown dramatically.
"Many of them say, wow, if I become a nun I can study, I can practise, I can do these rituals, I can live together with all these other lovely nuns and lamas will visit us and give us teaching," she says.
news.bbc.co.uk/2/hi/south_asia/8618325.stm
Could this be a partial solution to the vocations crisis in the Catholic Church?