A county ordinance established last year that bans steel-wheel tractors on hard-surface roads has entered a local courtroom and is gaining traction as a national issue: Does road maintenance trump the religious practice of a minority Mennonite population?
The local county attorney thinks this case could be headed for the Iowa Supreme Court, if not the nine black robes in Washington, D.C.
The 110 or so families in the local Old Order Groffdale Mennonite population, who flocked to this region since the early 1990s in search of farmland, feel unfairly singled out as they try to hold on to their conservative religious observance. Steel cleats to them are a crucial line in the sand. The cleats remind faithful farmers that tractors are agricultural machines, not all-too-convenient transportation.
Rubber tires offer a faster, smoother ride down the highway than the cumbersome cleats. So Mennonites fear the use of tires would entice families to take more trips into town on their tractors. It could represent an irreversible step down the slippery slope that leads to the next generation abandoning horses and buggies for cars. Close-knit Mennonite communities could be shattered.
desmoinesregister.com/article/20100606/NEWS03/6060354/1001/NEWS/Munson-Mennonites-steel-cleated-tractors-pit-road-maintenance-vs.-religion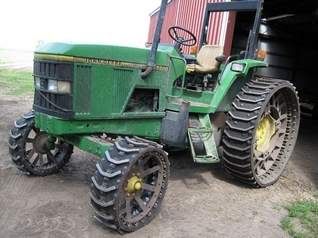 I dunno… maybe I am wrong, but to me, it seems that this Mennonite group should use rubber tires and simply forbid its members to use tractors to go to town. If the members aren't willing to comply, maybe they aren't very religious to begin with.