Do nuns only serve as teachers and nurses?
No they don't, but not everyone is aware of this. A visitor to the chat room of the Visitation Sisters did not even know monasteries existed for women!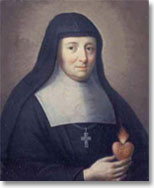 What questions do YOU have about religious life, vocations, or the Visitation Order?
Bring your questions to the chatroom, and have them answered by a Visitation Sister this Sunday.
Come to the regular chats on this page, every Sunday from 7:30 p.m. to 8:30 p.m., Eastern Time Zone.