Dear fellow Catholics,
At first thought, October 8th may not jump to our memory as a special day, but…
Eight years ago, on October 8th of 2000, our tireless former Pope John Paul II celebrated the Jubilee for the bishops of the world. On Saturday Oct 7th, (Feast of the Holy Rosary) he surprised them by presenting before them the Image of the Shrine of Fatima which he had ordered brought out of Portugal one last time, for this important celebration. More than 1500 bishops from all over the world prayed the Rosary before such a special image.
(The only other time that the sacred image had been allowed out of Portugal, had been for the Consecration Act of 1984.)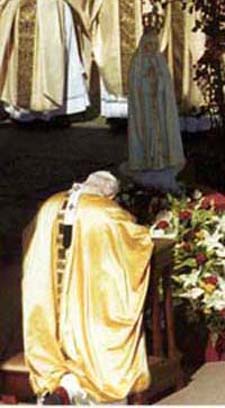 But he did not end there, on the next day, Sunday October 8th, 2000, each of the bishops was handed a copy (in their own language) of the Act of Entrustment of Consecration of the Whole world and the Third Millennium to the Immaculate Heart of Mary. All 1500 bishops, (representing the whole world) joined in. This time there could not be a question of collegial participation. They all read it in union with the Holy Father!
He had done it again, he consecrated the whole world, in union with the bishops of the world, to the Immaculate Heart of Mary. What an amazing Pope, in the midst of all his personal physical suffering,he was still thinking about our future.
An we know that God always keeps his promises! I am sure that the future of the world will not be the same because of his faithfulness to Our Lady.
**Thank you, John Paul II **

http://www.fatimaconference.org/images/Collegial-Consecration.jpg
Happy October 8th!

To Jesus through Mary