A couple with hearts big enough to raise 16 children, 12 of them adopted, were murdered in their bedroom Thursday night while eight of their children slept.
Authorities in Florida are seeking three men and a large, red, 1970s or early 1980s model van caught on the murdered couple's home video surveillance system
cbsnews.com/blogs/2009/07/10/crimesider/entry5151113.shtml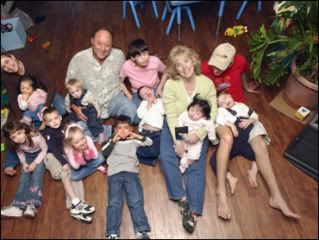 The van has been found and two persons questioned, but not arrested.
Florida law enforcement officials said Saturday that the people who killed a couple in their Panhandle home last week as their children slept appeared experienced.
Escambia County Sheriff David Morgan said in a news conference that the department is questioning two persons of interest but they are not in custody. He said tips from the public led to the discovery of a red van Saturday morning that was likely the same one used in the crime and that helped authorities find the people they are questioning.
google.com/hostednews/ap/article/ALeqM5iTAOQx619OXpq7P0Jcpzqc9Zg-cwD99CHOQO0
A bit more on the family:
[quote=AP story]The couple was well known locally for adopting children with developmental disabilities. They owned several local businesses, including a finance company and a used car dealership.
The Billings had 16 children, 12 of them adopted. Eight of the children, ages 8 to 14, were in the home when the couple was killed. Investigators interviewed the children, who are now staying with other family members.
[/quote]