The New Republic seems to be falling apart. There were a great quantity of other resignations this morning.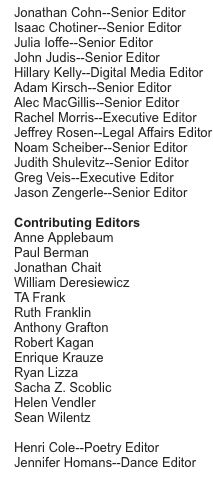 Shortly after Guy Vidra joined The New Republic magazine in October as its chief executive, he gathered the staff around a conference table in its Washington offices overlooking the National Portrait Gallery.
Mr. Vidra, who previously worked at Yahoo, said there were peacetime chief executives and wartime chief executives, and he was the latter. He added, using a profanity, that he planned to break stuff — a Silicon Valley phrase that implies disruptive innovation. He petted his laptop and told those gathered how important computers were to him.
To a staff that was busy putting together the centennial edition of a political and cultural magazine that was partly conceived in Theodore Roosevelt's living room and has featured writers including Virginia Woolf and Philip Roth, Mr. Vidra's words came as something of a shock.
nytimes.com/2014/12/05/business/shake-up-at-the-new-republic-franklin-foer-and-leon-wieseltier-are-out.html?_r=0