Mystic Maria Margit Bogner of the Visitation Order was a 20th century mystic in Erd, Hungary. She held a profound devotion to the Eucharist and wrote this of adoring Jesus in the tabernacle:
"I ardently desire to prostrate myself more often before your tabernacle, to love you, to speak to you of my tenderness as I would do in heaven, where I would embrace your feet. Up there, my Jesus, one always loves you, one always adores you, but here, within the tabernacle, you are so alone, you are offended there."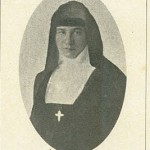 Sister Maria desired to do for God what others could not do, desiring in a practical way, progress in perfection. How does she find perfection to be attainable for her state in life? How can we practically desire perfection?
visitationspirit.org/2012/04/april-mystic-of-the-month-sr-maria-margit-bogner/