St. Francis de Sales, founder of the Visitation order shares this message on temptation, specifically during the season of Lent.
If we do not struggle, we will never be victorious. And just as Christ was ministered to by angels after his temptation, so too, after we have overcome temptation will we be invited to his heavenly banquet.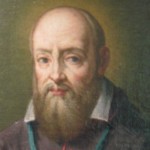 However, St. Francis warns against merely focusing on the end of this story. Through Lent especially, the life of the Christian is a battle. The victory will come, but we must remain strong during the present.
Reflection: How have I been tempted this Lent thus far?
What points from St. Francis de Sales encourages me in my own struggle?
visitationspirit.org/2012/03/living-lent-with-st-francis-de-sales-temptation/