Muslims worldwide have started pilgrimage to Mecca city in Saudi Arabia, they will perform some rituals which most of them do not know that those same rituals were performed by pagans in the pre-Islamic era, and that is even mentioned in authentic hadiths:
*** Muslims pilgrimage around Kabba ritual.**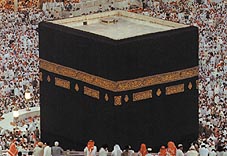 *** Muslims stoning ritual.**
http://www.slaati.com/inf/contents/newsm/30025.jpg
*** Muslims running between Assafa & Almarwa ritual.**
http://www.thekeytoislam.com/en/assets/images/g_safa_marwa_1.gif
More about that in a research by Father Zakaria Boutros.