This topic of inner penance was brought up by a guest to the chat room of the Visitation Sisters!
It was not outward penance, but inward forms which St. Francis de Sales practiced to counteract the religious wars in France. The greatest interior 'penance' he practiced was love of neighbor.
His lifestyle was that which we would call the "Little Way" of St. Therese, and it should come as no surprise that she was greatly influenced by St. Francis.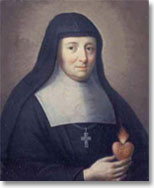 Another chat room guest brought up the problem of "instant sanctity" – those who expect to become saints over a matter of days. In St. Francis' gentle way, he always reminds us to take things slowly.
Bring your own questions and comments this Sunday and every Sunday from 7:30 to 8:30 p.m., Eastern Time zone!