Today, Google is celebrating the birthday of Keith Haring, the pop-artist and gay activist who died of AIDS in 1989. It is a reminder of just how deeply imbedded his influence is in our culture. Even if you don't think you're familiar with his work, you almost certainly are.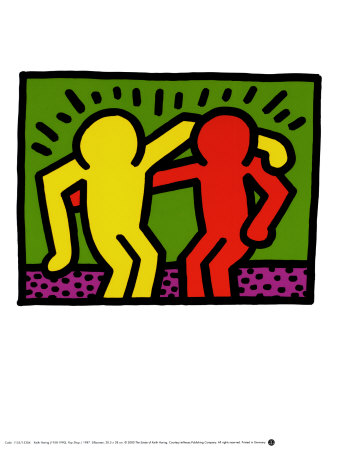 It is almost impossible to live in our country and not come in contact with his work. It has almost literally been everywhere: children's shows, schools, even Christmas albums. While much of his work focused on universal social issues such as apartheid and the crack epidemic, but most especially AIDS awareness, he nevertheless promoted a promiscuous homosexual lifestyle. One of his most enduring works was a mural that covered all of the walls of a public restroom which depicted in graphic detail every homosexual act imaginable, up to and including orgies.
While his style is certainly accessible, and some of his work not without good messages, should we question why a man of such contradictory purposes is still, 20 years later, one of the most heavily commercialized artists in American society? He has become a martyr for the gay rights movement, yet he died at the hands of his own lifestyle. Why does our culture celebrate as a hero a man who facilitated his own demise?
I don't wish to demonize Mr. Haring, but I do think it's quite telling when a society glorifies an individual whose life became a sad illustration of the self-destructive nature of "sexual liberation."