In the season of Lent, St. Jane de Chanel gave advice to the Sisters in her Visitation Order on perfect holiness. Read how she acknowledges that perfection "is no child's play", yet stresses that we are all obligated to reach towards the highest perfection of one's vocation.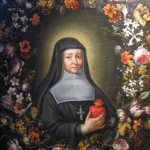 She says, "Reach forward"
Read about it, at the website of Visitation Spirit.