To appreciate something important, it follows that one must prepare well.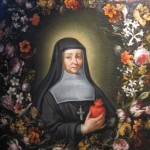 St. Jane de Chantal insists that Lent is necessary to prepare our hearts for the commemoration of Christ's Passion. And it is purity of heart that our Savior demands. When we keep our hearts in contemplation of the suffering and love of our Savior, we may receive the grace to suffer ourselves.
And while our sufferings are merely trifles compared to Christ's, we cannot carry our own burdens in our own weakness. Ultimately, St. Jane holds that we should give thanks for the benefits of his sufferings which have been graciously given to us.