Kind of an interesting idea…
It beats a lot of things that happen in NYC.
Already have one, it's called my work cubicle…
Oh, but this one has a kneeler…
A Mortimer Prayer Booth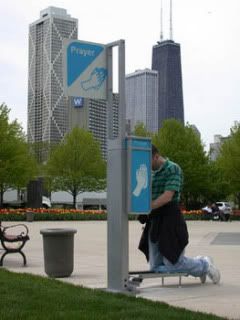 Great picture. Now that's interesting! I wonder if people will actually use them. It is kindof clever to make them similar to phone booths since prayer is communication.
That's cool. I can actually see how that might tempt someone to kneel and pray and see what happens!
But I cynically wonder if someone will find a way to sue the artist for intellectual property rights violations for copying symbols associated with a phone booth (owned by ma bell or someone).
That is cool…With the amount of cell phones out there, I am pretty sure Phone Booths will probably be obsolete pretty soon…At least one use for them now…
Kind of like urban shrines…